We are pleased to announce that we've added a new pool of several dozen unique digital assets to our offer, thereby the number of unique coins has increased to over 50.
This classifies Match Prime at the forefront of crypto liquidity providers as it is strongly believed that new products, services and technologies, such as PancakeSwap or Fantom, are of great interest to many potential and existing clients.
It is noteworthy that our new assets, chosen by Match-Prime experts, are not limited to only one type of crypto ecosystem, but include native, ERC-20, TRC-10 and other ecosystems.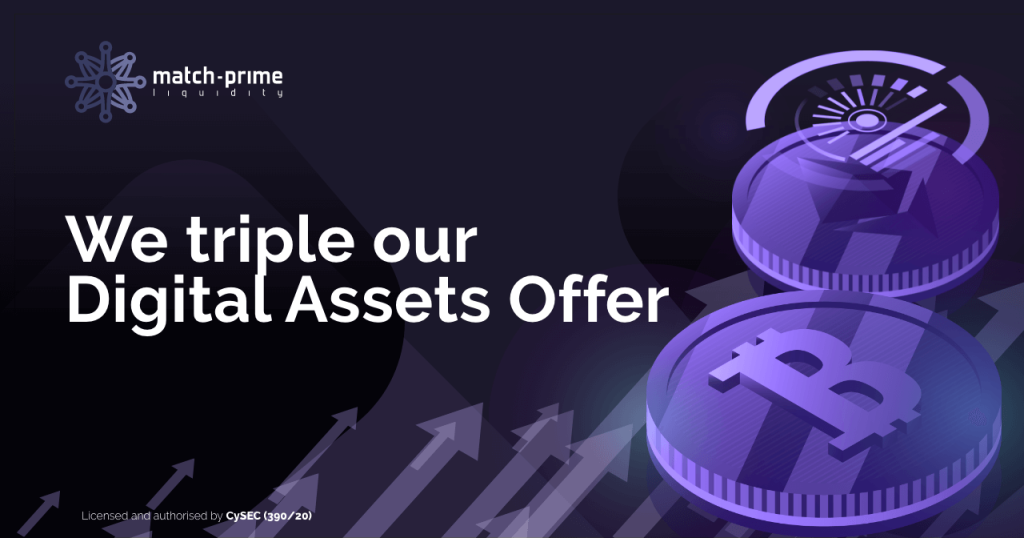 Last year was definitely a massive breakthrough for crypto- digital assets, until recently associated mainly with IT enthusiasts, found their way into social consciousness. As a result, investing, an activity not associated with youth, has become attractive also to many new, younger groups of recipients.
Commenting on the news Kyriakos Petallides, Match-Prime's Head of Dealing on Own Account, said: "Time is running fast, we have been observing an increasing share of potential customers in the retail market, people who are more interested in digital than in traditional money markets. Certainly, it is an attractive group that retail brokers are fighting for more boldly. Well established companies often forget that digital assets can be applied in many sectors. When creating our offer, we tried to look at the entire cryptocurrency market, even those coins that liquidity providers rarely even consider. I mean products related to gaming, like Axie Infinity or Decentraland, or Fan Tokens of the most famous football clubs, including FC Barcelona, Paris Saint-Germain and Juventus. This issue often appears during conversations with our clients- how we can help them become more attractive for traders to succeed in this changing market. Today we meet those requests by providing our clients with an interesting selection of products that can be used to increase profits."
Thanks to the strategic partnership with Match-Trade Technologies, all mentioned digital assets are available to Match-Prime customers on the spot, we offer up to 5 levels of the order book, in order to provide high levels of transparency.
Andreas Kapsos, the CEO of Match-Prime Liquidity, adds: "The digital assets market has been growing for a long time; we can probably assume that this whole decade will be theirs. Estimations say that the crypto market cap roughly tripled in 2021. There was a time it nearly reached $3 trillion! We have reasons to be optimistic; however, we need to understand how volatile the market is. New instruments appear faster than ever, almost every day, and then all it takes is just one tweet, one celebrity mention, for the prices to skyrocket. Our customers, especially retail brokers, don't have time to waste. We understand and respect that, hence our large-scale operations. In our company, we act in advance, analyse and collect information to deliver what our clients need, as fast as possible. Of course, we're always open to any suggestions. We can add something new at the client's request in just a few days! I can assure you that this is not the end of the changes, and we will extend our list very soon."