Fazzaco: Match-Prime is gaining more and more traction among business clients. Could you explain to a broader audience what you offer?
Andreas Kapsos: True, we are amazed at how well the market responded to our offer. Match-Prime is a Liquidity Provider for professional clients such as Brokers and other licensed entities. We provide deep, multi-asset liquidity sourced from the Prime of Prime liquidity pool. And we operate under CySEC regulations.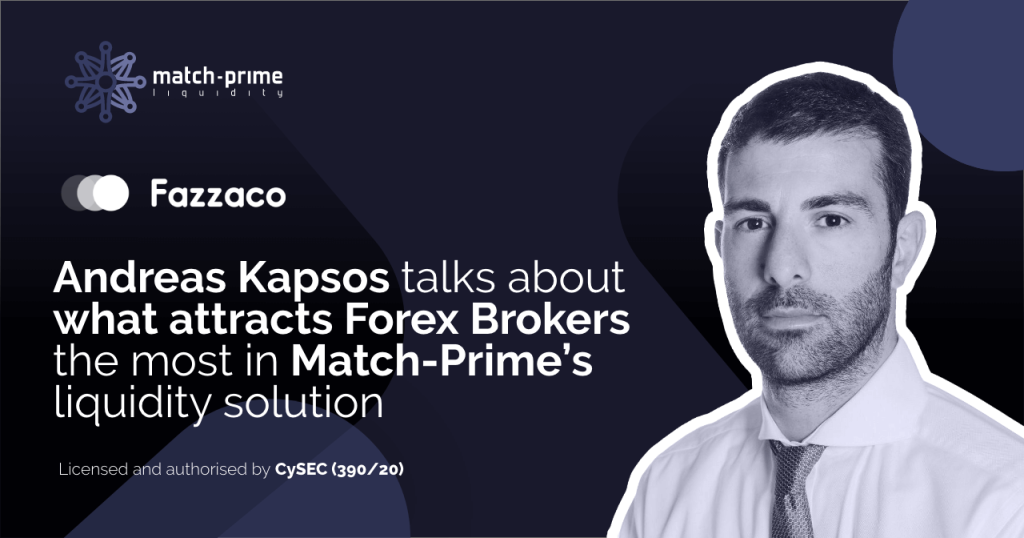 But we are more than just a liquidity provider. Our goal is to be a business partner for our clients. We offer the know-how that comes from many years of experience gained in the trading departments of renowned Forex Brokers and different financial institutions. We know that retail brokers' main focus must go to acquiring and retaining investors. That's why we provide a broad scope of service to support our clients in achieving their business goals. For example, we advise clients on the platform or bridge setup to control risk better. We can also help in solving possible claims as we maintain close relations with our liquidity providers.
But what do you think drew the industry's attention to a relatively new Liquidity Provider?
I believe it's a combination of several factors. First of all, we have a very competitive offer designed to encourage customers to try our solution. Deep, multi-asset liquidity with ultra-fast connectivity available with a minimum monthly fee starting from $1000 and tight spreads. What's more, clients can test our solution free of charge, for 3 months, before deciding to sign a long-term agreement. And complete onboarding takes just one week.
We also praise the technology behind our multi-asset liquidity as it's the ultra-fast matching engine that makes our solution so effective. It allows us to provide low latency execution and ensure a fair market price for over 1000+ instruments. Our Clients gain access to 9 asset classes, including forex, cryptocurrencies and equities on a single account, and our service covers up to 10 levels of market depth.
We have entered the market with the most optimised technical and trading conditions tailored to Brokers' most specific needs, and we let clients see for themselves how our multi-asset liquidity works. I don't think you can be more fair and transparent, and that's what I know clients appreciate the most.
Recently, we've learned that Match-Prime Liquidity joined the Gold-i's Matrix network; that's a huge step; could you tell more about it?
Yes, we have recently finalised integration with the Gold-i Matrix NETwork. We're very happy because it enables us to distribute our multi-asset liquidity to Gold-i's global client base of retail brokers, hedge funds and banks, significantly increasing our reach. But our own institutional platform – Match-Trader PRO – is a part of the Broker Solutions HUB developed by Match-Trade Technologies, a well-established technology provider. It already assured easy and quick access to our Institutional Liquidity via various distribution systems, including the most popular Bridges (PrimeXM, oneZero etc.) and FIX API. So our Liquidity is basically available for all the Brokers and White Label partners worldwide.
Multi-asset appears to be the future for trading providers. How can Match-Prime Liquidity help brokers expand their offering and remain resilient during challenging times?
We constantly enhance and improve our asset offering by adding new liquidity providers and more instruments. In our team, we have professionals with an impressive trading background. We are very active in the trading markets on a daily basis, and we carefully follow all the developments in the trading world. The company continuously assesses new product offerings to give customers a competitive advantage. Our solution is meant to be scalable, so we're happy to discuss with brokers their specific needs as we understand that each broker's clientele can have different expectations. We're flexible and approach every client individually – there's always room for discussion to expand our list of assets.
Fazzaco has learned that Match-Prime Liquidity will attend the iFX EXPO Dubai.
Correct, we are attending the iFX EXPO on May 19–20, but due to the meetings we've already booked with clients and partners, we will be there from May 17. You can visit us in booth number 47 to discuss your liquidity requirements. I will be there with my team, Stavros Economides and Safa Kadhem. So for everyone who would like to meet us in person, please contact us by e-mail or book a meeting directly in my calendar.
What opportunities does an event like iFX EXPO 2021 offer you?
It's an excellent opportunity for networking and growing our business, both in the Expo Hall and beyond, meeting our partners in person and being able to talk to them face-to-face.
Dubai is a crossroad between the East and West. It connects top-level executives from the most prominent firms, stemming from various industry fields worldwide. An event like this is the best opportunity to form new business relationships or strengthen existing ones. I believe that being able to engage directly with industry professionals and showing the real people behind the solution will have a massive impact on Match-Prime's brand recognition in the global market and our business growth.