Match-Prime, a Liquidity Provider operating under CySEC regulations, has officially onboarded Skilling, a well-known multi-licensed fintech company providing trading services for Forex and CFDs.
Skilling is a growth-stage, Scandinavian fintech founded by a leading European VC firm with a proven track record of success. It offers online trading on a wide range of world markets with over 800 instruments. What's more, Skilling's vision is to make trading accessible to everyone, in a transparent and secure way.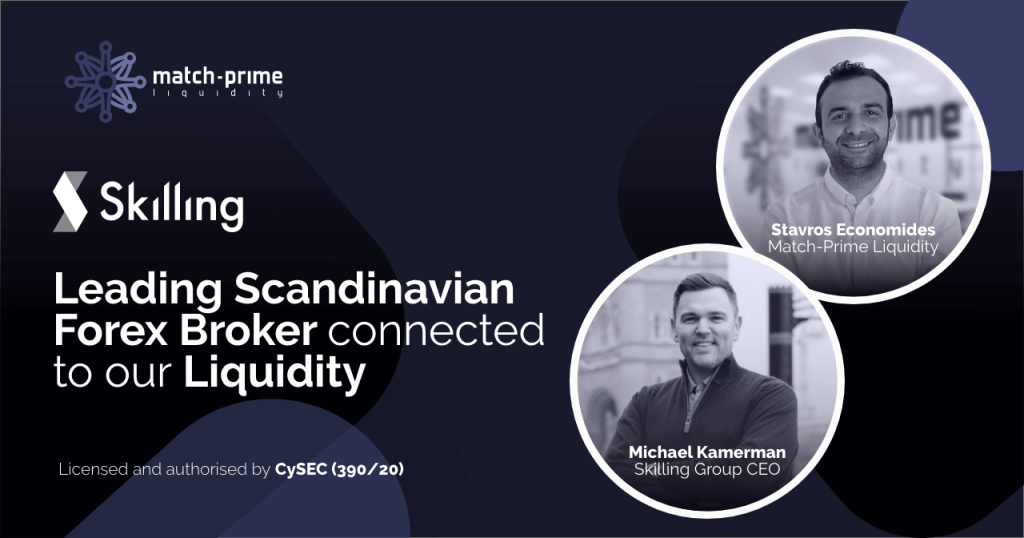 After a smooth onboarding and a period of testing the solution, the fintech company decided to sign a long-term agreement with Match-Prime, a Liquidity Provider offering deep multi-asset liquidity on a Prime of Prime model.
In short, the Match-Prime ECN Liquidity solution is based on ultra-fast matching engine technology. It provides one of the fastest execution services available across over 1000+ instruments and equities with up to 10 levels of market depth.
About Skilling
Michael Kamerman, Skilling Group CEO, says: "One of Skilling's unique selling points is its diverse mix of products. We have the products you expect us to have but also the products you want us to have like Dogecoin, Tesla, Gamestop, and Ripple.
For us to offer these products, we rely on great partners like Match-Prime. Match-Prime provides us with innovative solutions and supports true partner-to-partner engagements. If our experience with Match-Prime is representative of all tier partners, then they have a very bright future ahead of them as a leading fintech provider in our industry. We look forward to much success growing together over the years."
Stavros Economides, COO at Match-Prime Liquidity, added: "Skilling is a fast-growing, well-known fintech company looking for innovative solutions. What distinguishes us from the competition is a deep understanding of the Broker's trading needs, as well as the support we provide at every step of the way. We offer bespoke technical and trading conditions, which I believe will meet the expectations of even the most demanding traders. What's more, we provide all of our clients with access to Match-Trader PRO. It is a new-generation platform, where they can actively manage their liquidity accounts and control their risk.
We approach each client as a partner and in this case, I expect long and fruitful cooperation".
The seamless integration between partners was made possible by the support of the strategic technological partner of the liquidity provider: Match-Trade Technologies, the creator of a leading Broker solutions HUB.
Match-Prime announced its participation in this year's iFX EXPO in Dubai on 19-20 May. The company's representatives will be available to discuss the offer during the fair in booth 47. It will be also possible during a meeting outside the venue (booked by e-mail).