In recent years, the fluctuations of the cryptocurrency market have been substantial. It rose from $1 trillion in January 2021 to roughly $3 trillion in November of the same year, only to fall below $1 trillion again after a few months. This phenomenon was, and still is, widely discussed around the world, and it left the financial bubble a long time ago.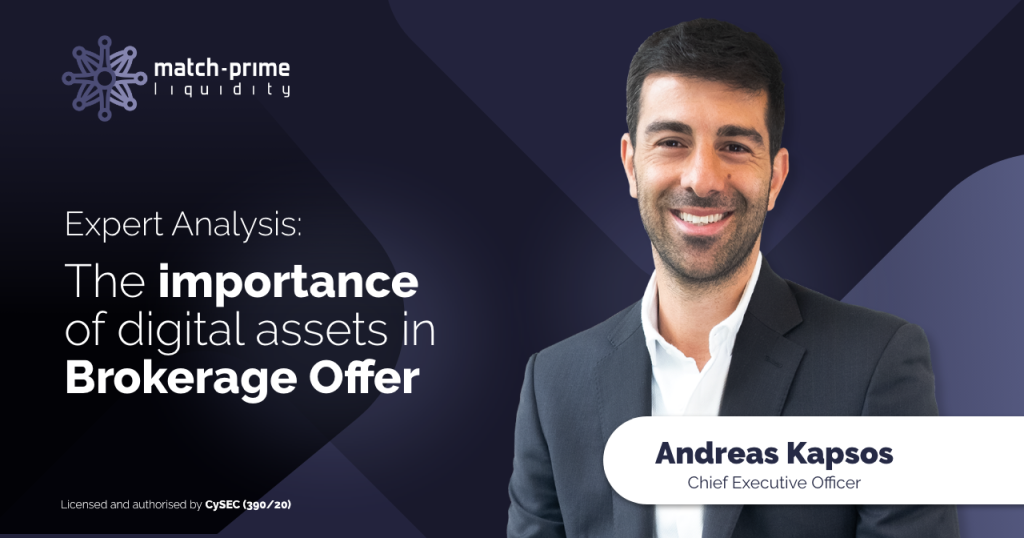 Despite recent changes and new records of declines in the market, investor interest in digital assets remains high, making it a crucial asset class for brokers to consider. In this short interview, we asked Andreas Kapsos, CEO of Match-Prime, to explain the reasons behind this trend and describe the benefits of including digital assets in a broker's offerings.
Andreas, the digital assets' popularity remains high, despite sometimes shocking industry events. What is the cause of it?
The emergence of new, younger, digital-native generations of investors and the resulting increase of digital assets popularity has made Cryptos a significant part of the financial market, and it is here to stay. This change is more important than you might think; it has already transformed the market tremendously.  New instruments appear faster than ever, and it takes just one piece of news for the prices to skyrocket or reach the bottom.  Although many specialists indicate that the crypto winter is currently underway, we still see a lot of interest in the market.
Should startup brokers offer this asset class from the start?
Yes, I think so. For brokerage companies, including digital assets in their offerings is a way to diversify and expand their business. Although offering support for crypto CFDs may require more effort initially, the benefits of cooperation with trusted technology and liquidity providers can significantly reduce the effort involved and thus will keep profits at a reasonable level. Competing for a new client without a wide range of services and many instruments to choose from is more difficult today than a few years ago. Clients tend to set higher and higher expectations because they know that the broker change is easy and can be done at any time within minutes. More and more Crypto is becoming in demand on the liquidity market. At Match-Prime, we receive many inquiries from brokers looking for exotic coins. Their customers simply demand more, and you can't blame them for that. 
What is, then, your advice for startup brokers?
Firstly, perform proper research to find liquidity providers with strong forex technology backup, preferably regulated by a recognised institution, that can offer reliable support. An experienced partner will allow you to minimise the risk of technical problems, that may occur, especially at the start, and the consequences of which can be severe for any business, not only for the recently established one.
Potential growth is, in my opinion, worth the additional effort involved in offering digital assets. To differentiate themselves from established players, startup brokers should consider offering unique digital assets. Attracting a customer while offering something unique gives a chance to keep him in the long term. The value of a loyal customer simply cannot be overestimated, it is always worth trying! You must remember that getting a new customer is way more expensive than retaining the current one. What you need to do is maintain their interest, for example, by adding more new assets to the offer.
What other ways are there for startup brokers to stand out from the crowd when the competition is so fierce?
A crucial factor in offering crypto CFDs is using a trading platform integrated with various payment service providers. There are only a few providers that can deliver that for you. Based on our collaboration and my own trading experience, I consider the Match-Trader platform from Match-Prime strategic partner Match-Trade Technologies an ideal option for brokers. It includes a payment gateway and integrates with major payment providers, enabling brokers to accept and send crypto payments globally and allowing traders to buy Crypto via wire transfer or credit card. All that in one easy-to-use application! Moreover, it also includes a wide range of built-in apps, like Client Office, or popular Social and Copy Trading solutions.
As I said, the trend towards digital assets is not likely to slow, making it an important asset class for brokerage firms to consider. The benefits of offering digital assets to clients, such as increased diversification and potential for growth, should be carefully weighed against the additional effort involved. By working with trusted technology and liquidity providers, startup brokers can differentiate themselves from established players and remain ahead of the curve.
Contact us if you need support choosing which assets to include in your offer.