Today we meet with Andreas Kapsos, the CEO of Match-Prime Liquidity, a CySEC licensed Liquidity Provider that works with professional clients and institutions on a Prime of Prime model, offering bespoke liquidity for over 2000 instruments.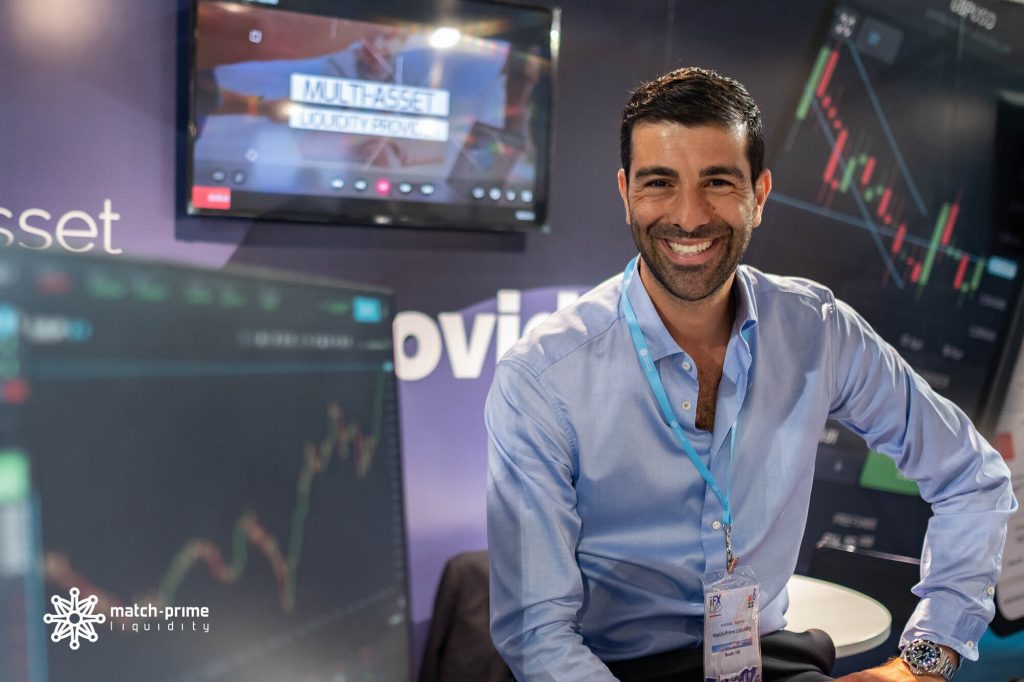 Andreas, what's the first thing that comes to your mind when you think about the previous year?
How busy it was! We often say that great relations with our customers are essential to our company's DNA, and it's not just a marketing slogan. One way to nurture these relations is to have as much face-to-face contact as possible. That is why we make sure to participate in the major expos around the world. In 2022 we managed to strengthen our global presence by taking part in the top 5 forex expos in Europe, Asia and MENA region. I am proud to say that myself and my colleague Despina Savvidou, our Chief Risk Officer, have been invited to participate in panel discussions with other market leaders, which have proven to be very insightful debates on the issues and challenges facing our industry.
Do these actions bring satisfactory results?
Yes, our efforts have had a notable impact on the significant increase in brand recognition. Every day, we gained new contacts and met new partners. A good reputation is undoubtedly one of the factors thanks to which we were voted The Best Crypto* Liquidity Provider 2022 and won the prestigious Ultimate Fintech Award, we treat this award as a sign of trust of our industry colleagues and clients, which is why it has become so valuable to us. Another crucial element that impacted the perception of Match-Prime Liquidity in the past year was the signing of an official full-season sponsorship agreement with the local football club Omonoia Nicosia. The name of our company appeared in a new context and attracted a lot of attention not only in the forex world but also beyond it. We are proud that players with our logo on their sleeves represented Cyprus in European competitions, which are watched all over the world.
Looking at the bigger picture, what would you say about last year?
The year 2022 was undoubtedly another breakthrough year for the entire financial services industry, and we were no exception. The world was just recovering from the Coronavirus pandemic, many restrictions were still in place, and new social anxieties related to international security revived. I am aware that all this, plus the changes in the dynamics of the Crypto, NFT and other markets that this has caused, means that not everyone has reason to rejoice today. Still, as Match-Prime, we managed to wrap the year with record results, improving our good position established in the previous years.
Can you say something more about this?
We worked hard to improve the most important parameters of our offer but also polished details like, e.g. efficient communication. Our execution is now 33% faster compared to the previous year, and at the same time, we managed to reduce the spreads by 40%. It required a lot of commitment, but this work didn't go unnoticed since the number of our clients has doubled. What is more, the turnover has increased as much as 10 times! These results made 2022 a very fruitful year for us.
It sounds like you had your hands full…
Such dynamic development would not be possible without additional assistance. Once again, we have increased the number of employees & partners – especially in the Support Department, which ensures that our clients receive the best possible help 24/7. We have also expanded our dealing team, but most importantly, we were joined by Despina Savvidou, a highly regarded professional with almost twenty years of experience in risk management. Scaling up the team was a natural consequence of doubling our client base.
Is that why you moved to a bigger office?
Correct. In order to comfortably accommodate everyone, we had to look for a new headquarters in the middle of the year. After several months of planning, we ultimately moved to this new, larger office in Nicosia but also gained additional office space in Limassol, thanks to our strategic partner- Match-Trade Technologies. If someone hasn't had the opportunity to meet us yet, we warmly invite you to one of these two locations!
A year full of important events. Would you like to add something?
Yes! Another important step in the development of Match-Prime Liquidity was the extension of our CySEC license – from now on, we can also call ourselves Market Makers! Due to this extension, our company has gained important flexibility. We can offer our customers a wider range of services and are able not only to externalise the clients' orders but also internalise them, taking the market risk on our own account. When we started working on what would later become Match-Prime Liquidity, we didn't expect this all to happen so soon, which makes us even happier.
You seem very pleased when you discuss the company's achievements
Good results motivate us to keep working! After the great year 2022, we have gained an appetite for more, and I must say that 2023 has started with the best omens for us – during the iFX Expo Dubai (16-19 Jan) we received yet another award, this time for the Best Multi-Asset Liquidity Provider. I would like to once again thank everyone who voted for us!
And if someone hasn't had the opportunity to meet our team yet, I warmly invite you to one of our two offices. Just contact me, and we can discuss all the business possibilities together. You can find the contact information on match-prime.com, or just message me directly on Linkedin. Thank you!

*Crypto as the underlying asset of CFD.